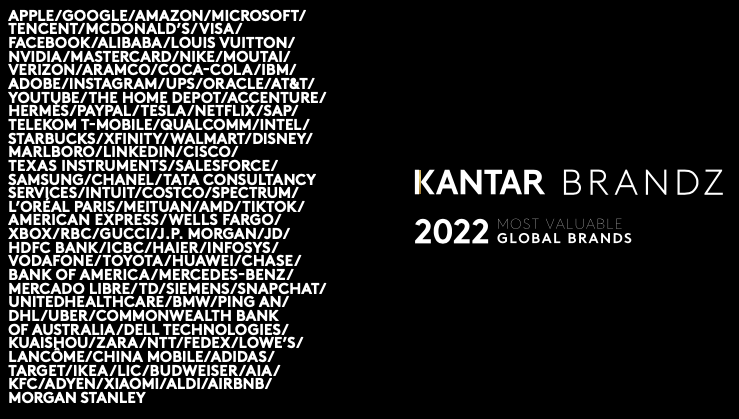 Now in its 17th year, the Kantar BrandZ Most Valuable Global Brands ranking ensures that the world's leading brands are recognised as leaders in their field.
For the Top 100, this represents the second straight year of robust growth, and is all the more remarkable considering that in 2020, total value rose by only 6%. Still, with all that has happened in the world between now and 2020, it doesn't feel quite right to call this year's gains in branded business recovery. It was clear from early in the pandemic that even in the best-case scenarios, the world as it existed before COVID-19 could never fully reappear.
At Kantar, we think of this moment as the opening act of an entirely new era, one that will be marked by frequent disruptions. It's an age that will demand forward- thinking, transformational leadership from the world's biggest brands - on issues like sustainability, inclusion, and public health.
And then, of course, while doing all of the above, brands must also continue to deliver innovative, well-marketed products to consumers - in the hopes of securing repeat business, at a time when consumer loyalty remains very much up for grabs.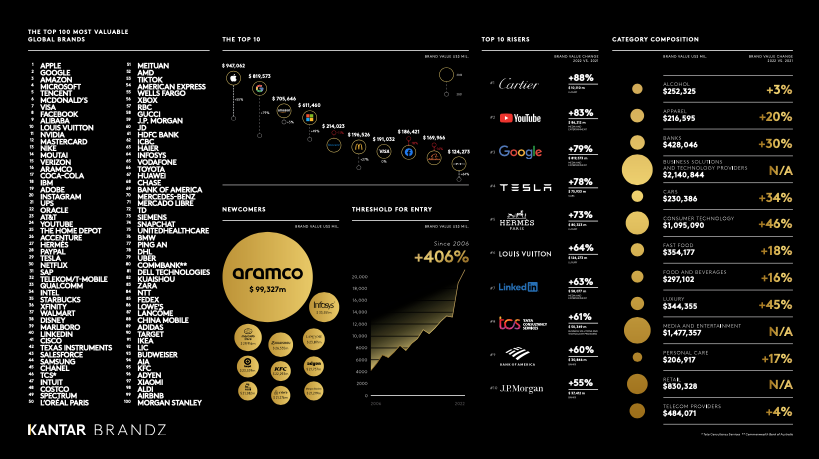 The Kantar BrandZ Top 100 Most Valuable Global Brands have grown by 23% in 2022, to reach a total value of nearly $8.7 trillion. This represents the second-greatest annual rise in BrandZ history, following last year's benchmark of 42%. Compare those figures to 2019 and 2020's annual increases of 7% and 6%, respectively, and it's clear that the world's top brands are, in many ways, thriving as never before.
Portfolio brands that have innovated and diversified their offer have continued to grow. Apple is the world's number one most valuable brand, growing 55% to US$947bn, followed by Google (No.2; $820bn) and Amazon (No.3; $706bn).
Eleven newcomers are led by Aramco (No.16), Infosys (No.64), Mercado Libre (No.71) and Target (No.90). Luxury brand, Cartier, is the fastest riser across all categories, increasing its brand value by 88%. The category with the highest year-on-year growth this year is Consumer Technology, growing by 46%.
Read the full report to discover the new Top 100 and leading global players across 13 categories; explore extensive analysis on how brands can navigate an evolving global economy, the growing influence of sustainability, and interviews with leaders from PepsiCo, Heineken, RBC and Moutai.